I am not really a soap person. I mean, I bathe and all, but somehow using a bar of soap seems a tad… messy. But boy, has soap "evolved" since my younger days! Now it can be infused with essential oils, made of organic ingredients, used for detoxification or acne-clearing… really, the possibilities are endless!
Sharon of Oak Tree Baby organized a soap-making class for the children at Soap Ministry, and on a lark I decided to sign Jayvon up for it. I wasn't sure how he would take to this, but I was open to let him try it out!
I have never seen my soap in such shapes before!
And even a tray of soap-sushi? Totally awesome!
We reached a little before the class started, and Jay was poking around the various shapes, and when he laid eyes on this, he had his soap mould chosen!
Robo-soap, anyone?
Jay even got to know a new friend Noey, and the boys excitedly examined the tools of the soap-making trade laid out before them on the table. Soap-making is a pretty simple art, as you just need to get the calculations correct, and Soap Ministry supplies everything from the digital scale, to the soap cutter, to more than 300 soap molds to suit any taste!
I kept reminding Jay to make some soap bars for his teachers for Teacher's Day, and he remembered one of his teachers loved Hello Kitty, and that was the mold he decided to get.
The purple mold holds the Robot, the orange one is a Dinosaur shape that Jay chose for Xavier, and of course, Hello Kitty molds!
The participants were introduced to the three different soap bases, the benefits of using soap and essential oils. After thinking, Jay decided to use purple for his soap, and infused each bar with vanilla essence.
Many teachers were on hand to guide the children in ensuring the soap mixture was well-stirred.
Learning how to fill the molds.
Ta-da! Now for the soap to harden.
And when the moment of truth came, you can literally hear the gasps of happiness at how the soaps turned out and the sighs of reliefs that it went so well!
Check out his Hello Kitty bars? Cute to the max!
And Jay was uber-happy with his robot, as the detailing came out beautifully! Xavier's soap?
Another success!
All in all, soap-making was made simple and fun, and Jay was so happy he wanted to return to make more soaps (he has his eye on a "gun" mold now).
If you are keen to check out a class for either your kid(s) or yourself, check out Soap Ministry's website or Facebook Page.
Linking up with Susan's Motivational Monday post today, experiencing something brand new has never smelt as wonderful!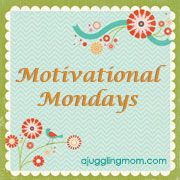 Disclaimer: I paid for Jay's class personally, and am in no way otherwise compensated for this post. All opinions expressed are 100% my own.